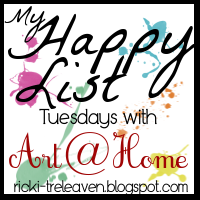 My Happy List- Week 2
I have the perfect starting point this week. I remembered Tuesdays posts are for My Happy List! Last week... I forgot. Until Thursday. And I was just too worn out at that point. I'm getting better about having more substance to my posts with this new schedule, but I'm still waiting to late to post a few times a week. Leaves me too exhausted to really put in a lot of effort. I no I'm on the right track though!
I'm also happy for National Geographic's show, Brain Games. My little family has been having our own little marathon with them the last 2 days. Love being able to enjoy something like that with my kids also! The girls were pretty mesmerized by all the tricks. Little man wasn't as into it, but he enjoyed as well!
Last thing I'll list today- Penny per page. I read a post on FB from a mom talking about penny a page. You see, my daughters LOVE to read. The only problem is, they only want to read when I tell them to. And they hate being told to! Once they start, I usually have to force them to stop though. They might be a bit crazy. :) So, I sat on this penny a page idea for a couple of days. Thinking my girls might be too old to find a penny per page tempting. But as they begged me to take them to the library to get more books and I thought back to that morning when they whined about having to read... it spilled from my mouth before I could stop it. Well.. this is my happy list, so you can figure out what happened. It worked. The first day they went crazy and tried to read from the time they woke until they went to bed that night. Luckily for my husband's wallet. they calmed down some after the first 2 days. And so far, I'm no longer having to ask or even remind them to do their reading each day. :) (And for the record- little man is benefiting from this as well. He's reading more on his own, and I've caught his sisters helping him with his reading several times over the last week! :)