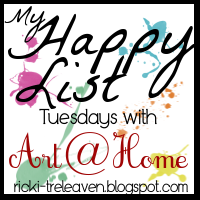 I'm really not sure what's with me this week... Last night, I sat down and started typing My Happy List Tuesday. Halfway through, I realized it was actually Monday and changed it. Tonight, I sat down and started typing Wordless Wednesday... But it's Tuesday! Seriously brain! Get with the program this week!
I have so much to be happy for. Always. Here's a few I'll highlight for this week.
1. The weather. It's been surprisingly pleasant the last few days. I mean, sure, the weather man said it would be, but this is July. In Texas. I wasn't about to believe it until I felt it. And I sure have felt it! :)
2. The kids and I have been crafting like crazy, which I enjoy so much! I love various crafts, so having the kids get involved and enjoy it with me it awesome! If you haven't seen my post from yesterday, go check it out! I showed off some items we made!
3. We've also managed to keep the house fairly clean lately. And it hasn't involved us cleaning 24/7. This makes me very happy.